Document imaging

Written by Ana Canteli on 8 august 2017
Imagine for a moment that you work in a human resources department - where you work on contracts management- or in any other department of your company - for example medical records in the health sector, that keeps many documents. Think particularly about all the closets, file cabinets and space dedicated to store the documentation of your firm; where they keep hundreds of documents, papers, records, images and reports – many of them can be duplicated, damaged or even unrecognizable.
Now, let's say that you receive a request about a specific document that is in one of those boxes, filling cabinets or shelves. How sure would you feel about finding it quickly? How sure would you even be that the file is where you are and not in another room?
Thanks to document imaging systems (digital documents, digital pictures, electronic invoices) doubts and problems as basic and common as these disappear along with all those boxes, closets and space dedicated to storage, that you can use and reinvest in more productive activities. At the same time that all that digitalized information becomes more accessible and easy to find; so your staff can benefit from proper information management. This will contribute to the increase of efficiency for all business processes of the organization, because staff won't need much time to find the information that they need. Access control will be improved by applying IT security policies and additionally it will guarantee the authenticity of enterprise content through digital signatures.
OpenKM is a document management system that allows managing all digitalization document processes - information management - inside the company.
What is the document imaging process?
It is the process that allows you to convert a paper document into an electronic document, where all the information of the document is captured as an image (that's what the data capture process means). To do so, they use document scanning equipment and special applications that are part of the document scanning process. Taking a picture of a document in a way that lets you read the information; the software does something very similar to that.
How does document imaging work?
When we digitalize the documentation we have to do it in a way that will make the information useful, accessible and available.
The company's documentation can use multiple channels and formats so here we show you the most important steps that we should have in consideration when digitalizing documentation. These steps will let us properly run the data archiving procedure:
Importation: In companies the documentation can use multiple channels and formats: paper through the postal mail, electronic format via fax, e-mail, web form, etc. The business process involves all the departments of the company that have to take into account all input means, distribution and delivery channels of e-documents and all equipment to manage electronic documents.
Extraction: once documentation is digitalized and inserted in the document management system, the software has to extract all the information inside them. OpenKM is an enterprise content management system that offers text extraction features that extract all words contained in the body of the document; that let the user from searching files by terms present in the document, to set the type of document thanks to the embedded OCR engine of the document management system. The software also has an optical mark recognition engine - OMR – and the DMS provides the possibility to integrate it with any third application. In this way, they provide the connectivity among OpenKM content manager and pre-existing company applications ( CRM, ERP, Contracts Management Software, databases… )
Classification: Once the documentation is stored in the document management system, files can be subject to internal procedures or implementation of processes inherent to the business. For instance; files identified as web forms have to be sent to the customer care department , a job application should be sent to the human resources department; or a document classified as provider has to be sent to the invoicing department.
Validation: the information contained in documents can require being managed by several users assigned to different departments, in order to check that it fulfill all the criteria or if it is correct. In this scenario, the ap automation feature or the workflow engine, included in OpenKM enterpise content management system can make the checking and validation process easier and assure the strict compliance of the business process.
Distribution: document imaging enables the release of documentation to "feed" the next systems or applications used by different company departments. The OpenKM SDKs for Java, PHP or .NET let in a very easy and fast way to integrate the enterprise content management software with third applications. This allows staff access from other systems to the digitalized information, stored in the document management system in a transparent way.
Which are the benefits of document imaging?
Increase of efficiency in retrieving information: when several documents are often consulted, it is costly to find that paper copy and to archive them again. This is particularly true when these files are stored in warehouses outside the company or are managed by archive warehouse providers ( records storage or external custody ). In these cases, document imaging allows yo to convert the document to a format accessible through the Internet. The OpenKM document management system has a search engine that allows easy access to those documents that are used extensively thanks to pre-consfigured searches.
Release of documentation to all stakeholders: some documents have to be managed or used by several users, maybe at the same time. Pending payment invoices can be a good example; because the checking and approval process can be managed by several departments located in other places. Once the invoice is digitalized, it becomes accessible to other managers on other floors of the building, or located in another country. To share documentation inside the company, document imaging is the ideal solution
Search and retrieval of documents: the digitalized documents need to have information that will help you find them. In paper filling systems, this information can be taxonomies or the file plan; it depends on the system used. With document imaging, the indexing process it is normally added to them, that means adding descriptive information to the image ( data management ). This information – metadata – can be searched in a database that increases the search speed. In the picture we can see an example of search by metadata and its result.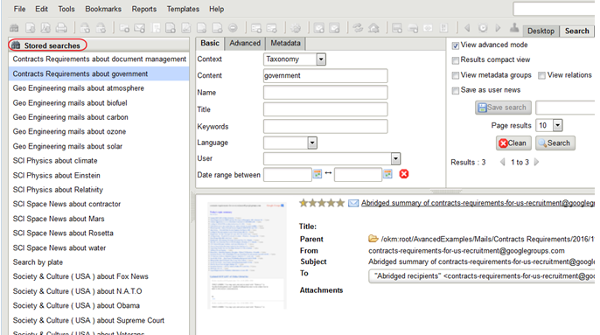 Special requirements fulfillment: although paper documents are often considered the best evidence of a fact, there are several situations in which the fulfillment of specific criteria require that the paper document be converted to an electronic format. For example the ISO 32000, that advises that documents be converted to PDF format – long term support format – because this type of file guarantees the release of e-documents, outside of its creation environment or where they are previewed or printed.
Should we digitalize the entire repository?
We should fit the answer to each company's scenario; to the obligations that they have to satisfy regarding their customers, public institutions and stakeholders.
In general terms, paper documents that have a short retention term or that are not searched regularly, can be maintained in paper until it's deletion.
However, document imaging is highly recommended for those files that are consulted on a regular basis, released or are often searched or used.
There is no doubt that document imaging increases the efficiency of the work flow in the company, speeds up the document management process, enables criteria fulfillment, improves the quality of our services and reduces operational costs.