Reference Management Software

Written by Ana Canteli on 15 September 2023
OpenKM: A Powerful Bibliographic Reference and Document Management System
In academia and research, efficient management of bibliographic references and documents is essential for conducting sound research and producing quality work. As access to a wide variety of information sources, such as databases, e-books, and journal articles, has become more accessible, the need for a reliable and versatile bibliographic reference manager has become more evident. In this context, OpenKM stands out as a powerful solution beyond reference management to address the comprehensive organization of knowledge and research.
OpenKM as a Bibliographic Reference Manager
OpenKM, initially known as a document management software, has proven to be a highly adaptable tool that can effectively be used as a bibliographic reference manager. Its organization and customization capabilities perfectly suit academic reference management and bibliography preparation.
One of the most outstanding features of OpenKM is its ability to import and organize a wide variety of information sources. Researchers often collect bibliographic references from various academic databases and online libraries. OpenKM can easily import and organize these references into a personal database. This allows quick access and efficient management of key information sources.
Citation styles are a fundamental part of any academic work. OpenKM offers the flexibility to customize metadata and fields to suit the specific bibliographic styles used in different academic disciplines. This means that researchers can maintain strict citation consistency, regardless of the formatting requirements imposed by academic journals, universities, or conferences.
In addition to metadata organization and customization, OpenKM allows bibliographic citations to be inserted directly into research papers and other scholarly works. This capability significantly simplifies the citation process, as users can access their references and manage bibliographies from within the platform. This is especially useful for researchers working on multiple projects who need quick access to specific references.
Accessibility is another critical advantage of OpenKM. Unlike traditional reference management systems that often require a desktop application, OpenKM is accessible from any device with an Internet connection. Users can access their references and documents from anywhere on a desktop, tablet, or mobile device, facilitating collaboration and teamwork in distributed research environments.
OpenKM is also highly compatible with other systems and tools used in academia and research. Researchers can easily integrate OpenKM with their preferred word processor, further simplifying the preparation of bibliographies and the insertion of citations in their papers. In addition, OpenKM offers several online text editors to support remote and collaborative work.
Comparing free and paid bibliographic managers, OpenKM stands out for its versatility and ability to handle various document types, including e-books, journal articles, and other scholarly resources. This versatility is especially valuable for researchers working in disciplines where information sources can vary widely in format.
Knowledge Management in OpenKM
OpenKM's ability to manage and organize bibliographic references is wider than managing individual documents. In addition to importing and storing references, OpenKM allows the creation of broader knowledge structures. Researchers can organize their references into subject folders or categories that reflect the structure of their research.
The ability to organize references and documents in a hierarchical structure facilitates knowledge organization. Users can create a system of folders and tags that reflects the structure of their research and allows them to quickly access relevant documents in the context of their projects.
Sharing and collaborating on research projects is critical in today's academic and scientific environment. OpenKM allows you to share folders and documents with colleagues and collaborators, facilitating collaboration on joint research projects. In addition, the task manager included in the document management software improves collaboration and coordination between members of the same project. Controlled access permissions ensure that only authorized people can view and edit shared documents, guaranteeing privacy and information security.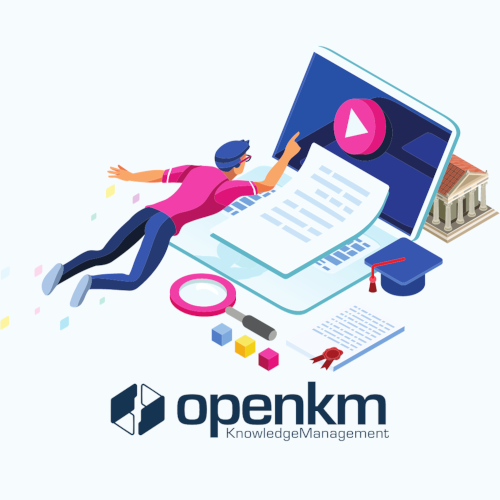 OpenKM versus other Bibliographic Reference Management Tools
Comparing OpenKM with more traditional reference management tools such as EndNote, EndNote Online, or Reference Manager, some key differences stand out. While these tools focus primarily on bibliographic reference management, OpenKM offers greater versatility by allowing comprehensive management of documents and information sources of diverse origins. In addition, the ability to customize metadata and fields in OpenKM gives researchers greater flexibility in adapting references to citation styles specific to their disciplines.
Another significant advantage of OpenKM is its ability to be accessed from any location and device, allowing researchers to work more flexibly and collaborate effectively on joint research projects. This is especially valuable in an academic world where collaboration and access to information are critical to research success.
The Future of Reference Management with OpenKM
As access to information sources and scholarly documents expands, the need for practical bibliographic reference management tools becomes even more relevant. OpenKM is uniquely positioned to address this need by combining reference and comprehensive document management.
Using OpenKM as a reference manager enables researchers, librarians, and students to build bibliographies more efficiently, access their information sources from anywhere, and collaborate on research projects effectively. In addition, the ability to customize metadata and fields ensures that specific citation styles are accurately met.
OpenKM is an essential tool for those seeking a comprehensive solution for scholarly reference and document management. As research and collaboration continue to evolve in the academic world, OpenKM presents itself as a powerful tool that facilitates information management and access, thus contributing to advancing knowledge in all academic and scientific disciplines.