Document management with biometric digital signature

Written by Ana Canteli on 23 may 2017
The electronic signature is the electronic data set, that can be used as a means of identifying the signer and detecting any subsequent changes in the signed data.
The most well-known certificate in Spain is the one issued by the FNMT ( the National Mint ).
The OpenKM architecture offers an open environment from which we can carry out the electronic signature process in several ways, for example:
By integrating the document management system with an electronic signature server.
Use the OpenKM electronic signature client developed for Windows.
Integrate with third-party electronic signature applications; one of them is VidSigner, biometric digital signature provider.
What are the advantages of biometric electronic signature?
As a way to identify of the signer, VidSigner offers biometric information (speed, inclination, pressure of the signer, etc.) and context; which allow to determine the authorship of the electronic signature, thus demonstrating the full legal validity and determining authorship of the digital signature, if necessary.
Biometric digital signature opens a wide range of possibilities, for example; job parts, receipt voucher or delivery notes, among others. The biometric electronic signature provides at least the same probative capacity as the paper document.
The use of biometric electronic signature technology allows significant cost savings in the emission, management and storage, so shortly after its implementation, we can recover the investment.
How does the biometric electronic signature VidSigner application and the OpenKM document management software work?
The duo of OpenKM and Vidsigner allow in 3 easy steps and through different mobile devices, to sign a document.
The user only needs to install the application on their usual mobile device or tablet (Android, iOS and Windows support).
The procedure starts when the document is uploaded to the document management system, either by an automatic process or by a user; the document is marked as pending of biometric digital signature.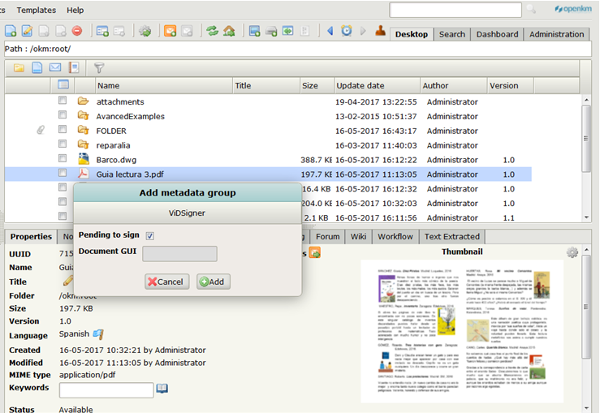 We can see how OpenKM automatically assigns the "pending to sign" value.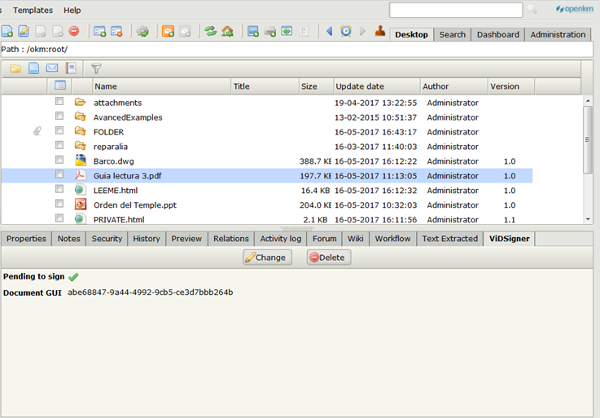 In the second step, the signatory user checks the documents pending of signature on their mobile device or tablet.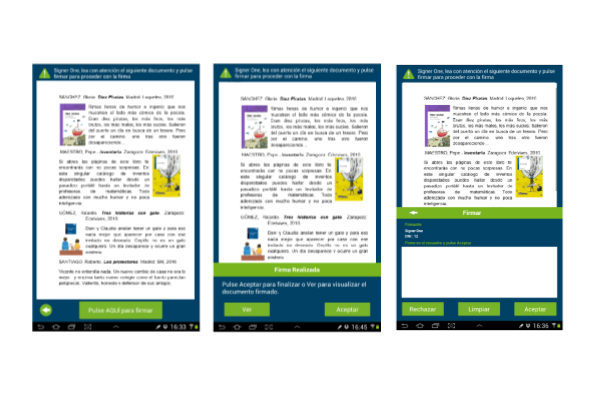 They check the content of the document and if they agree, they proceed to sign and register it with a simple click.
In the third step, the user who has sent the documentation to sign, can verify that the user has signed the document using the digital signature metadata, assigned to the file.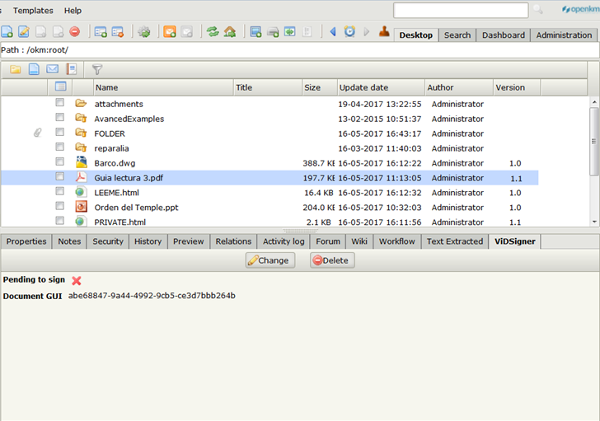 OpenKM by saving the different versions of the document - accessible from the History tab of the document properties panel - allows us to build the history of actions that have taken place on that document; users who have interacted with it and the changes that have taken place in that document, comparing the different versions.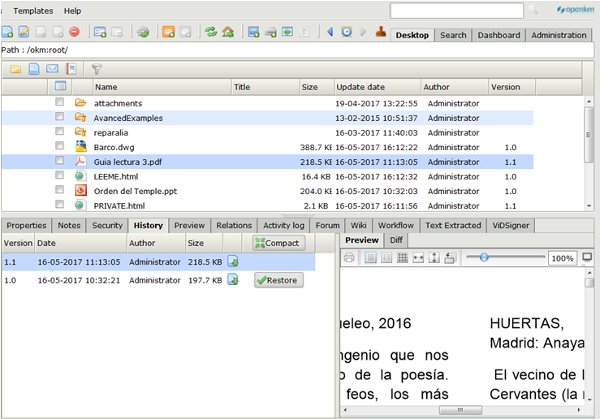 As we can see in the preview, we can see the document and the user's signature.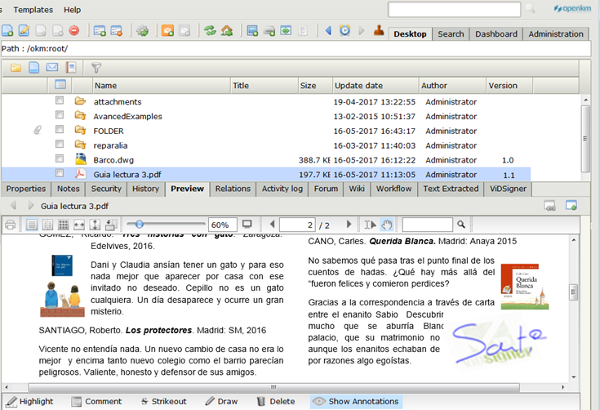 The OpenKM and Vidsigner duo offer us a biometric electronic signature solution, simple, fast and trusted.