Document Management in the Digital Age - Why Do You Need OpenKM?

Written by Mario Zules, OpenKM USA, on 6 November 2023
Today, we live in an ever-evolving digital age where information and documents play a pivotal role in the operation of businesses and organizations. Efficient document management has become a priority for companies looking to increase productivity, streamline workflows, and ensure compliance with regulations. In this context, OpenKM emerges as a powerful and versatile solution for document management, offering a wide range of functionalities and advantages that make it a logical choice for any enterprise. In this article, we will explore why you need OpenKM in the digital age.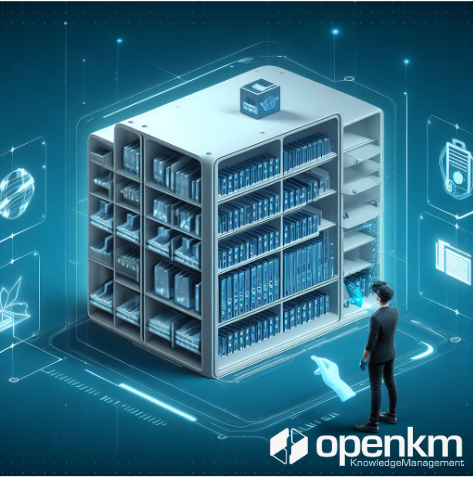 The Importance of Document Management in the Digital Age
The transition to the digital age has led to an exponential increase in the generation and storage of electronic documents. We no longer rely solely on paper; now, documents are created, shared, and stored in digital formats, changing how organizations manage their information. This evolution has made document management more complex and, at the same time, more crucial than ever.
Document management in the digital age is not just about storing files in an electronic folder. It involves efficient organization of information, quick retrieval of documents when needed, and effective collaboration among team members. Additionally, it must comply with security and regulatory requirements, such as the General Data Protection Regulation (GDPR) in Europe or the Health Insurance Portability and Accountability Act (HIPAA) in the United States.
What Is OpenKM?
OpenKM is a Document Management System (DMS) that has become a leading choice in the market for organizations looking to address these challenges in the digital age. Developed using open-source technologies such as Java, Tomcat, Lucene, Hibernate, and Spring, OpenKM provides a robust and highly customizable platform for document management.
Key Features of OpenKM
Intuitive Web Interface: OpenKM offers a user-friendly web interface that allows users to navigate and search for documents efficiently. This facilitates employee adoption and reduces the learning curve.
Centralized Storage: OpenKM stores all documents in a centralized repository, simplifying information management and retrieval. It also supports integration with cloud storage if a hybrid solution is preferred.
Lucene Indexing: Lucene's powerful indexing capability enables fast and precise document search. Users can search by content, metadata, and tags, making it easy to find relevant information within seconds.
Workflow with jBPM: OpenKM includes jBPM functionality, allowing for the automation of workflows and business processes. This streamlines document approval and review, reducing response times.
Security and Compliance: OpenKM provides a robust set of security tools to ensure that documents are protected against unauthorized access. Additionally, it facilitates regulatory compliance by tracking and auditing all actions performed on documents.
Benefits of OpenKM
So, why do you need OpenKM in the digital age? Here are some key reasons:
Increased Productivity: OpenKM simplifies document management, enabling employees to quickly access the information they need. This reduces time wasted searching for documents and enhances operational efficiency.
Improved Collaboration: OpenKM facilitates team collaboration by allowing shared access to documents and collaboration in workflows. This streamlines decision-making and project execution.
Regulatory Compliance: With OpenKM, you can rest assured that you are complying with relevant regulations and requirements. The ability to audit and track all activities on documents helps demonstrate compliance.
Cost Reduction: By eliminating the need for physical document archiving and streamlining workflows, OpenKM can help reduce operating and storage costs.
Scalability: OpenKM is scalable and adapts to your organization's changing needs as it grows. You can start with a smaller implementation and expand as necessary.
Conclusion
Document management in the digital age is essential for the success of any business or organization. OpenKM stands out as a market-leading solution, offering a wide range of features and benefits that can help you optimize your document management, improve collaboration, and ensure regulatory compliance. If you are looking for an effective way to address the challenges of document management in the digital age, OpenKM is a solid choice worth considering. Don't fall behind in this digital age; embrace OpenKM and make the most of your document resources and data.