5 Tools to Effectively Manage Your Data

Written by Daniela McVicker on 3 April 2020
Whether you operate as a local small-scale startup or an international company, managing your data efficiently is of utmost importance. While manual data storage and management might be an easy short-time solution, this approach won't help facilitate future business growth.
That's why more and more companies are investing in business data management and analytics. For example, according to data from Statista, the global business data and analytics market was valued at $168.9 million and is projected to grow to $274.3 billion by 2022.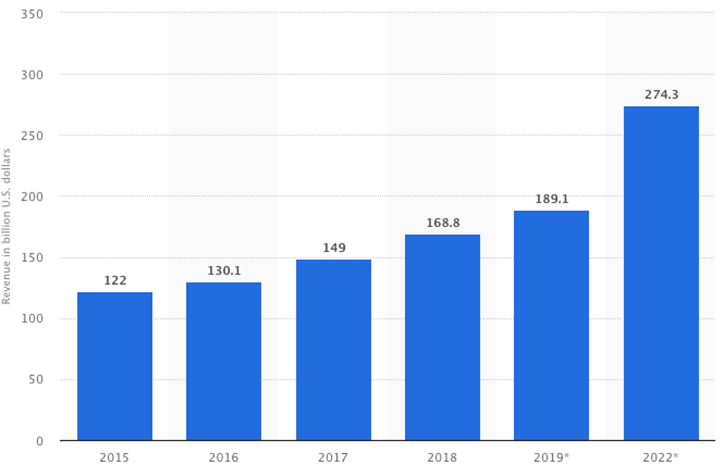 The global big data and business analytics market size. Source: Statista
As such, it's pivotal that you settle for a set of reliable data management tools that are specifically designed for business-related purposes. With that said, let's dive into several efficient tools that will effectively manage your data for you and streamline your workflow as a result.
The Importance and Benefits of Dedicated Data Management
Successful businesses always relied on data for helping with decision making, structuring their work, and improving customer service. In fact, using cloud-based data management tools is increasingly regarded as mandatory for surviving and thriving as a business. Well, data is not the best tool to advance a business, it's about as close as it gets to one.
Let's consider a couple of simple examples.
Every company, no matter how big or small, generates data if they have a website or a social media page; this includes visitorship data, user experience data, content interaction data, web traffic data and much more. All of this has the potential to teach a company how to become more customer-centered and organized.
In addition to this data, a typical business also has a vast pool of data in the form of presentations, images, videos, PDFs, textual documents, audio files, spreadsheets, and other documents (often called "unstructured data"). Failing to organize them with an effective document management system will make a workday for employees a mess, which affects the overall performance of the business as well as its ability to adapt to ever-changing market requirements.
That's why data management is tremendously important.
Patrick Rowe, a business analyst at TopWritersReview, defines data management as "a process of collecting, validating, storing, processing, and protecting business data in a way that meets the needs of both internal users and external trusted stakeholders."
Achieving all these goals is not easy. Since most data generated by businesses is unstructured, i.e. is not easily searchable and more difficult to analyze, companies need to have digital tools and systems to conduct effective data management.
Thankfully, a number of easy-to-learn and effective data management tools designed specifically for businesses are available. Start your selection process by deciding on what you're trying to achieve with these tools (more effective file management, better security of your data, etc.).
Data Management Tools to Consider
The following 5 tools are essential when it comes to business data management.
1. OpenKM
The first item on our list is an excellent open-source document management system designed to help businesses with managing and processing unstructured data by providing an easy-to-use interface. An organization using OpenKM can have a single place to store, view, and process data collected from various sources.
Here are more functions that businesses can benefit from:
Document management. This is a content management software that allows storing, managing, and processing both digital and physical documents (the latter are captured through the use of a document scanner), so business users can access them in one place
Email management. Collecting emails from various providers, automatic import and sorting, synchronization with Google Contacts, and metadata capture.
Antivirus protection of all data.
Microsoft Office and Open Office Add-ins to retrieve, manage, and store textual documents, spreadsheets, and presentations.
Synchronization of local and OpenKM files.
Translated into more than 10 languages.
The app has great reviews from various sized businesses on independent review sites, too.
2. Google Cloud
This online-based solution was designed to help businesses migrate and to manage data in the cloud. According to Google, 75 percent of all databases will be migrated to cloud to store and manage enterprise data, which marks the start of a new era where more businesses take advantage of business analytics.
Here's the rundown of data management-related features of Google Cloud:
Cloud services simply common data analytics workflow tasks
Set up and manage PostgreSQL, MySQL, and SQL server in the cloud.
Use real-time analytics, large-scale events, and advanced and predictive analytics with BigQuery.
Fast, and fully managed cloud data warehouse.
View fast, interactive visual analytics with BigQuery's BI engine.
Access all kinds of Office documents with Google Docs.
The rich functionality won Google Cloud the title of Company of the Year from Dive Awards.
3. CmisSync
The main benefit of this tool for businesses is the synchronization of organizational documents to computers so employees could manage data more effectively, even when offline. CmisSync works similarly to DropBox - which we also have in this list - and was designed specifically for the use by businesses and enterprises.
Here's what makes this tool a good option for business data management:
Robust synchronization of work-related documents and folders to local computers of employees.
Selection of files to sync. Business owners can choose what to synchronize to prevent access to confidential files.
Easy-to-use access to connected folders and files.
Available in 10 languages to suit the needs of international businesses.
Immediate access. Synchronization begins as soon as a user goes online.
4. Dropbox
Dropbox for Businesses is a well-known data storage and management tool created for organizations to access and collaborate on file management.
Here's the complete list of what it has to offer:
A selection of storage plans. No matter how many terabytes of data your organization has to store online, Dropbox can provide "as much space as your team needs".
Powerful synchronization and privacy options to prevent unauthorized access.
Password-protect file links and "download disable" options.
Access every file in online storage even with low hard disk space.
Monitoring of user activity and access rights.
More than 300,000 connected apps to extend the functionality and make it easier for your teams to work.
5. Chartio
The last tool on our list is a data analytics software designed to allow businesses to explore cloud-based data exploration and analytics. The thing about Chartio is that it could be used by a wide range of organizational users: data analysts, executives, marketing, sales, and product teams. For example, marketing teams can use the analytics to process data from their apps and get access to insight into marketing performance.
Here's a complete list of features of Chartio for businesses:
Business data exploration and warehousing.
Create data reports and track specific KPIs and business metrics.
Data democratization (making data accessible for non-technical business users without involving IT).
Historical business data analysis and tracking of corporate metrics.
Custom dashboards to visualize and quantify marketing, sales, and product development progress.
Quantification of the sales ROI.
Sales forecasts based on available business data.
In Conclusion
Data helps to make better decisions, period. Every business generates a lot of it, but not everyone still has the ability to organize, manage, and process it in a way that creates value. The tools on this list can help with doing exactly that and obtain that competitive edge needed to thrive in an ever-increasing competitive landscape.
Author's bio: Daniela McVicker is a contributor to RatedbyStudents. She is passionate about technology and is always excited to share the latest information available on the market. Daniela is fascinated by technology evolution and is constantly keeping an eye on corporations to check so that she can be the first to spread the news when a new product is launched.