Simple autotagging
From OpenKM Documentation
The script assign keywords to documents name based in database metadata values present into document content.
Description:
There's a database metadata table doc_type with document type values.
There's a script which looking for key values into documents.
There's an automation task - based in scripting - executed after uploaded document which tags documents.
Database metadata:
-- DOCS TYPE




DELETE

 

FROM

 

OKM_DB_METADATA_TYPE

 

WHERE

 

DMT_TABLE

=

'doc_type'

;




INSERT

 

INTO

 

OKM_DB_METADATA_TYPE

 

(

DMT_TABLE

,

 

DMT_REAL_CoLUMN

,

 

DMT_TYPE

,

 

DMT_VIRTUAL_CoLUMN

)

 

VALUES

 

(

'doc_type'

,

 

'col00'

,

 

'text'

,

 

'dt_id'

);




INSERT

 

INTO

 

OKM_DB_METADATA_TYPE

 

(

DMT_TABLE

,

 

DMT_REAL_CoLUMN

,

 

DMT_TYPE

,

 

DMT_VIRTUAL_CoLUMN

)

 

VALUES

 

(

'doc_type'

,

 

'col01'

,

 

'text'

,

 

'dt_description'

);


 


-- VALUES




INSERT

 

INTO

 

OKM_DB_METADATA_VALUE

 

(

DMV_TABLE

,

 

DMV_COL00

,

 

DMV_COL01

)

 

VALUES

 

(

'doc_type'

,

'1'

,

'Article'

);




INSERT

 

INTO

 

OKM_DB_METADATA_VALUE

 

(

DMV_TABLE

,

 

DMV_COL00

,

 

DMV_COL01

)

 

VALUES

 

(

'doc_type'

,

'25'

,

'Audio'

);




INSERT

 

INTO

 

OKM_DB_METADATA_VALUE

 

(

DMV_TABLE

,

 

DMV_COL00

,

 

DMV_COL01

)

 

VALUES

 

(

'doc_type'

,

'6'

,

'Broker Note'

);




INSERT

 

INTO

 

OKM_DB_METADATA_VALUE

 

(

DMV_TABLE

,

 

DMV_COL00

,

 

DMV_COL01

)

 

VALUES

 

(

'doc_type'

,

'8'

,

'Case Study'

);




INSERT

 

INTO

 

OKM_DB_METADATA_VALUE

 

(

DMV_TABLE

,

 

DMV_COL00

,

 

DMV_COL01

)

 

VALUES

 

(

'doc_type'

,

'5'

,

'Company Information'

);




INSERT

 

INTO

 

OKM_DB_METADATA_VALUE

 

(

DMV_TABLE

,

 

DMV_COL00

,

 

DMV_COL01

)

 

VALUES

 

(

'doc_type'

,

'4'

,

'Conference Report'

);




INSERT

 

INTO

 

OKM_DB_METADATA_VALUE

 

(

DMV_TABLE

,

 

DMV_COL00

,

 

DMV_COL01

)

 

VALUES

 

(

'doc_type'

,

'3'

,

'Course Material'

);




INSERT

 

INTO

 

OKM_DB_METADATA_VALUE

 

(

DMV_TABLE

,

 

DMV_COL00

,

 

DMV_COL01

)

 

VALUES

 

(

'doc_type'

,

'7'

,

'Dissertation'

);




INSERT

 

INTO

 

OKM_DB_METADATA_VALUE

 

(

DMV_TABLE

,

 

DMV_COL00

,

 

DMV_COL01

)

 

VALUES

 

(

'doc_type'

,

'12'

,

'Form'

);




INSERT

 

INTO

 

OKM_DB_METADATA_VALUE

 

(

DMV_TABLE

,

 

DMV_COL00

,

 

DMV_COL01

)

 

VALUES

 

(

'doc_type'

,

'11'

,

'Image'

);




INSERT

 

INTO

 

OKM_DB_METADATA_VALUE

 

(

DMV_TABLE

,

 

DMV_COL00

,

 

DMV_COL01

)

 

VALUES

 

(

'doc_type'

,

'26'

,

'Infographics'

);




INSERT

 

INTO

 

OKM_DB_METADATA_VALUE

 

(

DMV_TABLE

,

 

DMV_COL00

,

 

DMV_COL01

)

 

VALUES

 

(

'doc_type'

,

'16'

,

'Interview'

);




INSERT

 

INTO

 

OKM_DB_METADATA_VALUE

 

(

DMV_TABLE

,

 

DMV_COL00

,

 

DMV_COL01

)

 

VALUES

 

(

'doc_type'

,

'17'

,

'Presentation'

);




INSERT

 

INTO

 

OKM_DB_METADATA_VALUE

 

(

DMV_TABLE

,

 

DMV_COL00

,

 

DMV_COL01

)

 

VALUES

 

(

'doc_type'

,

'19'

,

'Report'

);




INSERT

 

INTO

 

OKM_DB_METADATA_VALUE

 

(

DMV_TABLE

,

 

DMV_COL00

,

 

DMV_COL01

)

 

VALUES

 

(

'doc_type'

,

'14'

,

'Video'

);




INSERT

 

INTO

 

OKM_DB_METADATA_VALUE

 

(

DMV_TABLE

,

 

DMV_COL00

,

 

DMV_COL01

)

 

VALUES

 

(

'doc_type'

,

'0'

,

'_Other'

);



Code:
import

 

com.openkm.dao.bean.NodeDocumentVersion

;




import

 

com.openkm.dao.bean.NodeDocument

;




import

 

com.openkm.extractor.TextExtractorWork

;




import

 

com.openkm.api.OKMRepository

;




import

 

com.openkm.dao.NodeDocumentVersionDAO

;




import

 

com.openkm.dao.NodeDocumentDAO

;




import

 

org.hibernate.Session

;




import

 

com.openkm.dao.HibernateUtil

;




import

 

org.hibernate.Query

;




import

 

com.openkm.dao.bean.DatabaseMetadataValue

;




import

 

com.openkm.module.db.stuff.DbSessionManager

;




import

 

com.openkm.api.OKMProperty

;




import

 

com.openkm.dao.HibernateUtil

;




import

 

com.openkm.core.DatabaseException

;




import

 

org.hibernate.HibernateException

;





String

 

systemToken

 

=

 

DbSessionManager

.

getInstance

().

getSystemToken

();





// Get path




String

 

docPath

 

=

 

OKMRepository

.

getInstance

().

getNodePath

(

null

,

 

uuid

);





// Get doc version uuid




NodeDocumentVersion

 

currentVersion

 

=

 

NodeDocumentVersionDAO

.

getInstance

().

findCurrentVersion

(

uuid

);




String

 

docVerUuuid

 

=

 

currentVersion

.

getUuid

();





// Document extractor




TextExtractorWork

 

tew

 

=

 

new

 

TextExtractorWork

();




tew

.

setDocUuid

(

uuid

);




tew

.

setDocPath

(

docPath

);




tew

.

setDocVerUuid

(

docVerUuuid

);





// Execute extractor




NodeDocumentDAO

.

getInstance

().

textExtractorHelper

(

tew

);





// Get extracted text




NodeDocument

 

docNode

 

=

 

NodeDocumentDAO

.

getInstance

().

findByPk

(

uuid

);




String

 

text

 

=

 

docNode

.

getText

().

toLowerCase

();





// Looking for metadata description values




String

 

qs

 

=

 

"from DatabaseMetadataValue"

;




Session

 

session

 

=

 

HibernateUtil

.

getSessionFactory

().

openSession

();





try

 

{


  

Query

 

q

 

=

 

session

.

createQuery

(

qs

);


  

List

 

ret

 

=

 

q

.

list

();


  
  

for

 

(

DatabaseMetadataValue

 

dmv

 

:

 

ret

 

)

 

{


    

if

 

(

text

.

contains

(

dmv

.

getCol01

().

toLowerCase

()))

 

{


      

OKMProperty

.

getInstance

().

addKeyword

(

systemToken

,

 

docPath

,

 

dmv

.

getCol01

().

toLowerCase

());


    

}


  

}




}

 

catch

 

(

HibernateException

 

e

)

 

{


  

throw

 

new

 

DatabaseException

(

e

.

getMessage

(),

 

e

);




}

 

finally

 

{


  

HibernateUtil

.

close

(

session

);




}



Example
Register database metadata values: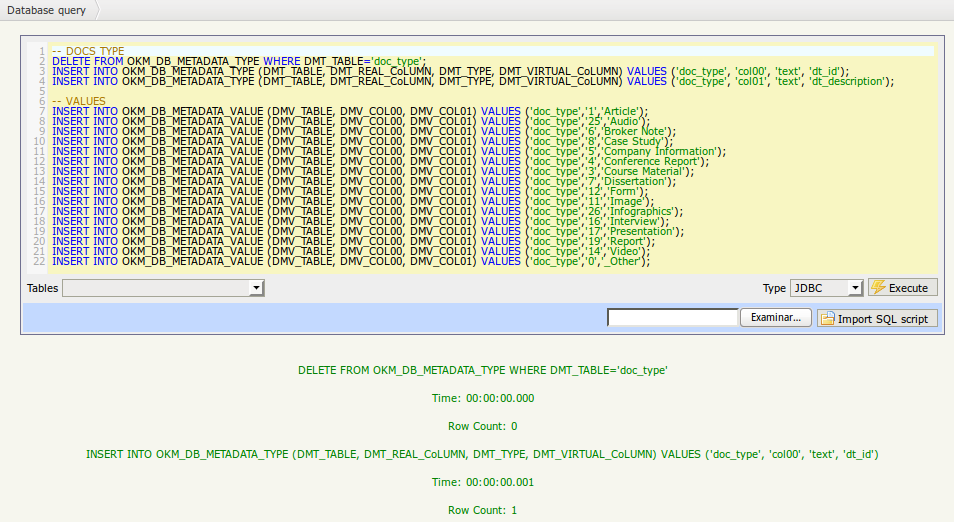 Register automation task: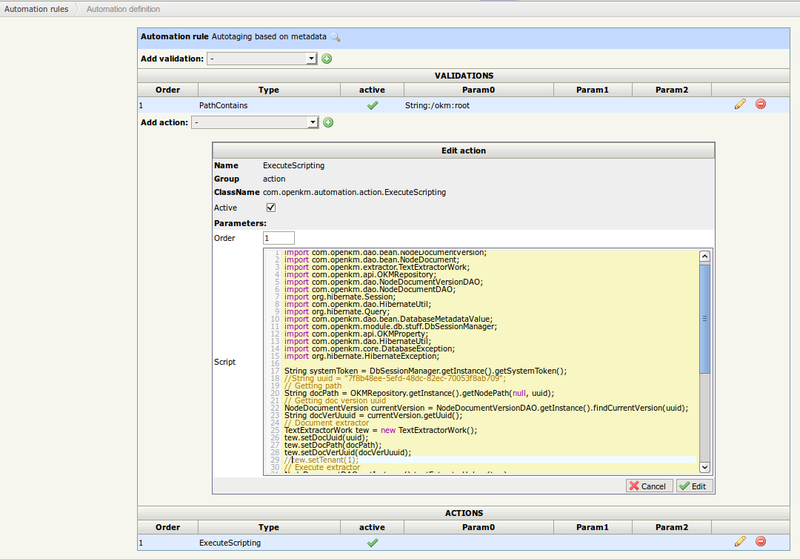 Autogging uploaded file: