Metadata view
From OpenKM Documentation
| | |
| --- | --- |
| | This feature will be present in OpenKM 6.0 |
Metadata view is a hierarchical tree structure of metadata groups ( property groups ). Each possible metadata value is represented as a tree node structure.
| | |
| --- | --- |
| | Only Select and SuggestBox metadata types are represented on metadata view. With metadata view can only browser defined closed values declarated. Metadata types like input or textarea are not represented on the metadata tree structure view. |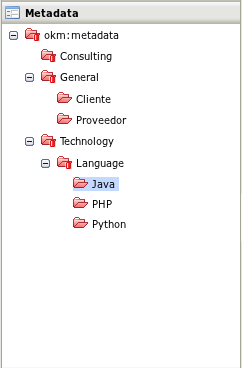 A document, folder or mail can be linked with many metadata property values folders at the same time. Each time some metadata value folder is selected, all related documents, folders or mails will be displayed in the file browser panel. All the major document, folder or mail functionalities are available from this view.