JBoss Developer Studio
From OpenKM Documentation
You can get a free copy of JBoss Developer Studio from http://www.jboss.com/products/devstudio/. Once registered you can download the program compiled for your preferred Operating System.
In order to install Maven and Subversion integration, go to Help > Install New Software... and select:
"JBoss Developer Studio 4.0 Extras - https://devstudio.jboss.com/updates/4.0/extras/"

Open "JBoss Selected Features" and select
Maven Integration
Subclipse
Once selected, click on the Next button and follow the installation wizard until finished. In the last step JBoss Studio need to be restarted.
When you import a Subversion project, you will see this dialog: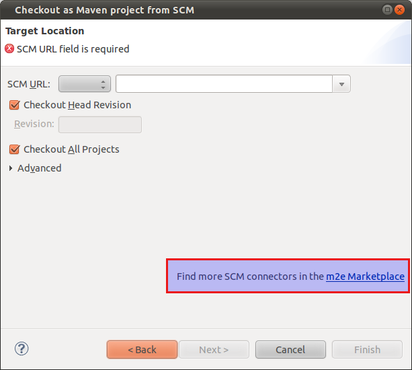 The first time you will need to install the Subversion connector from the m2e Marketplace. Go to the m2e Team providers group and select m2e-subclipse. After that, click on the Finish button.