Eclipse plugin: Installation
From OpenKM Documentation
First of all, download Eclipse Galileo from http://www.eclipse.org/galileo/. Get the Eclipse IDE for Java Developers version. Once you have installed the application, start it and will install the jBPM designed.
Go to Help → Install New Software... Add a new site with this location http://download.jboss.org/jbosstools/updates/stable/:


Now select jBPM jPDL Tools from the list and click on Next button.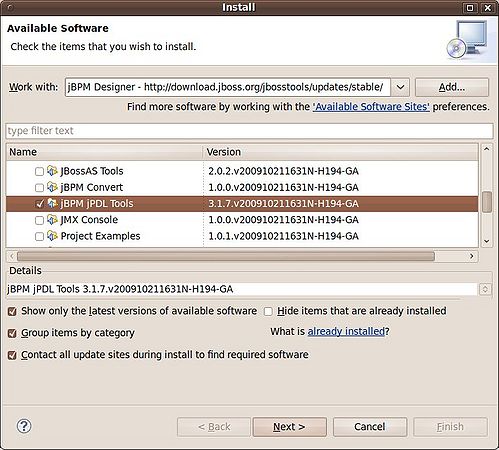 Eclipse should be restarted to finalize the plugin installation.

Eclipse Helios & JBoss Tools 3.2
Recently the packages have been refactorized and is located at All JBoss Tools 3.2.0 > jBPM 3 Tools Runtime.
Eclipse Indigo & JBoss Tools 3.3
If you use Eclipse Indigo, follow instructions from JBoss Tools 3.3 Installation From Update Site. You have two available software sites:
The jBPM Graphical Editor is located in the SOA Tooling source. Once registered the site, check the option at All JBoss Tools - SOA Tooling 3.3 > jBPM 3 Tools Runtime.