Adding bookmark
From OpenKM Documentation
Operation icon:

Available
Pop-up menu of folder tree.
Pop-up menu of document browser.
Select the document or folder on which you want to do the operation. Execute the operation and a window will appear in which you can put a description of the bookmark.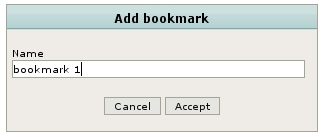 Once the bookmark has been created you can check that it appears in the general "Bookmark" menu. The bookmarks are graphically distinguished depending on whether they are folders or documents, and ordered according to their category and name.